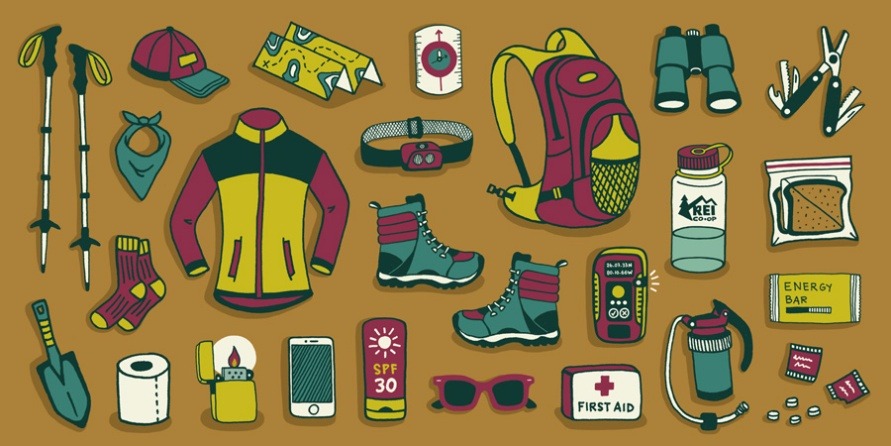 The most essential part of the mountaineering is to pack all required things that can prove life savior in a life-threatening situation in the mountains. Be it nutrition, insulation, light, maps, compass, shelter or a matchbox, one small thing can be of a big use on the vast mountains which are beautiful but can be dangerous if underestimated.
Here is a mountaineering equipment checklist that has almost everything a mountaineer needs to have in his backpack for survival.
Depending on hiking, climbing, trekking, the things can be extracted or even more essential things can be added as per the demand of the time. The survival kit is more essential during outdoor activities in the remote Himalayas where the weather is unpredictable and mobile phones do not work.
According to a book Mountaineering: The Freedom of the Hills, which has been written by nearly four dozen mountaineers, had in 1974 published the "Ten Essentials" which is recommended to all the mountaineers. However, the list was revised in 2003.
The Ten Essentials
1. Emergency shelter:
– Tarp, bivouac sack, space blanket, plastic tube tent, jumbo trash bags, insulated sleeping pad.
2. Fire:
– Lighter, matches in a waterproof case, fire starter
3. First-aid supplies:
– First-aid kit, insect repellent, prescribed medicines
4. Hydration:
– Always carry extra 2 liters of water for one additional day, water bottles, can carry portable water purification kit
5. Illumination:
– Torch, headlamp, flashlight, batteries, power bank (LED bulb is recommended to extend battery life)
6. Insulation:
– Jacket, sweater, fleece, cap, gloves, socks, extra clothing as per local environment/route
7. Navigation:
– Maps in waterproof case, magnetic compass, GPS system, altimeter, reflective tape for signaling, whistle
8. Nutrition:
– Always carry extra food for one day for emergency, dry food, ready to serve food, compressed concentrated food bars
9. Repair kit and tools:
– Knives (Swiss knife), multi-tool, scissors, shovel, duct tape, needle with thread
10. Sun protection:
– Sunglasses/goggle, sunscreen lotion, lip balm, hat, other clothing to protect skin from sun tanning
Apart from these ten essentials, recommended by renowned mountaineers of the world, Discover Kullu Manali, considering climatic conditions of Himalayan mountain ranges gives more detail about mountaineering equipment checklist and survival kit that can be carried to ensure maximum safety.
More about Mountaineering equipment checklist
Meal:
Always carry some extra food
Dry food
Dry fruits
Compressed concentrated food bars
Glucose
Chocolate and Candies
Honey
Granola and energy bars
String cheese
Enough water (always carry extra water)
Clothing/footwear:
Warm innerwears, thermal wear
Socks
Sweaters
Warm jacket
Windcheater
Fleece
Rain coat/poncho
Trekking pants/trousers
Cap/hat
Gloves
Gaiters
Trekking shoes (waterproof)
Slippers
Hardware/equipment
Helmet
Sunglasses
Harness
Climbing rope
Crampons
Ice axe
Trekking stick
Belay/Rappel device
Sewn runners
Prusik slings/Mechanical ascender
Good quality tent
Sleeping bag
Space blanket
Inflatable sleeping pad
Stove and fuel
Lighter, matchbox in waterproof case
Candle
Cooking and eating utensils
Thermos flask (optional)
Water bottles
Headlamp, flashlight/torch with extra batteries
Portable water filter/tablets
Multitool, knife, Swiss knife
Trowel
Stuff sacks
Backpack
Toilet paper
Glue
Duct tape
Needle and thread
Diary and pen
Medicines:
Basic first-aid box
Prescribed routine medicines (if any)
Sunscreen cream (SPF 15+)
Lip balm (SPF 15+)
Antihistamine
Insect repellant
Anti-diarrhea
Antibiotics, Anti-malaria
Headache, stomachache, body ache, cold, fever tablets
Plaster, bandages
Potassium permanganate or chlorine or iodine tablets (helpful in wound treatment/antiseptic/water treatment)
Navigation/signaling:
Maps
Magnetic Compass
GPS navigation system
Mirror
Whistle
Flare
Two way radio/walkie-talkie
Recommended to learn basics of star navigation
Personal belongings:
Camera with extra battery
Cell phone with power bank (works rarely)
Walkie-talkie/radio set
Permits to visit restrict areas
Copies of identity card/passport
Toilet paper
Multifunction wrist watch
Towel
Fire:
Fire plays an important role in keeping us alive in bone-chilling cold, keeping animals away and also we can generate smoke out of it to send the signals.
Apart from taking matchbox, lighter, fire starter or anything, camphor plays an important role in setting wood/bushes under fire. Take some camphor tablets along. It is highly inflammable. It will help ignite fire even in moisture.
For avalanche-prone areas:
Avalanche transceiver
Avalanche probe
Portable shovel
Avalanche cord
One multi-purpose thing that can prove of many usages is non-lubricated condom. This sounds funny but this is true. Condoms can be used to store a lot of water, sometimes more than 15 litres of fresh water. It can be used as bandage or to tie something. If you are going for a Jeep Safari or motorbike tours on rugged Himalayan routes with no service stations for many kilometers, it's a must-have tool.
I remember my road trip from Leh to Manali sometime back in 2012 when my SUV's pressure pipe burst few kilometers beyond Pang towards Manali. The area is isolated and I knew that the nearest service station is at Keylong, after around 6-7 hours of tough drive through challenging terrains. I wrapped the burst pipe with electrical tape and supported it by binding a metal wire. But, it could not help me for more than 1km.
As almost every second taxi driver passing through the road knows me personally, an Innova driver coming from Manali side pulled over to help me. He suggested me to use a condom. He himself wrapped the pipe with a condom and then covered it with electrical tape. Will you believe, I forgot about the problem in my car for the next few days until I had to visit the service station for overhauling to get ready for the next long trip.
So next time when making mountaineering equipment checklist, keep this precious thing on the top. Condom prevents birth but it saves lives too.